Every one say Thank You on the YAHOO Groups list to Bob Mazzaferro and Roland Hanke for the following manuals that I was always told did not exist. They may not exist in English but here they are in Italian, German and French. Also remember to say Thank You to Roland for doing the translations to English, they are both on the Yahoo list,so go ahead and say Thank You ! They are posted here to save the limited disk space the Yahoo Group has allocated to it.
Roland will be sending me copies of the German originals that I will re-scan into a PDF, my hope is that between what Bob and Roland have we can come up with a good high quality PDF.
2.0 Manuals
Bob's PDF, Italian and French 2.0 manuals (4.1mbytes), even though they are full in different languages they are full of great information. Engine measurements don't change from one language to the other. If your mechanic speaks Italian this is what you need, they are light and not the clearest but Thank You Bob !
Rolands German Translated to English 2,0 pages (1.5mbytes), 4 pages translated to English, this is ALL YOU NEED to rebuild this awesome motor that lives in our toys, Thank You Roland. The same pages are in the above Italian and French manuals but translated to English.
The English factory 2.0 manual (Warning 23Mbytes), unfortunately it is lacking in lots of detailed information and you have to use a combination of the above 2 manuals when doing a motor rebuild.
2.4 Manuals
Ferrari 246 Manual (Warning 94Mbytes, best to do a "Save As" on this one), this is the full factory workshop manual for the 246, it is HUGE but the motors is the as the FIAT 2.4 and many if not all of the procedures are the same for the 2.0 motor with just different specifications. The first 100 or so pages are useless to us on our FIAT's but after that there is lots of good information on the motor.
I may have lost one 2.4 manual from the list and have asked for it if it is not the same as the above one.
Next on my wish list is the drivers/owners manual, I have this one in Italian and will scan it and post it here, if anyone has it in French, please send it as I can read French and will take up the task of translating it.
You will need Adobe's Acrobat Reader for the above, its FREE

One more cool thing from Roland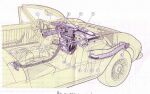 its a translation of the heating/cooling system on the Dino (click on the picture to enlarge), great for all those little details like which control does what.
And by the way, Roland is keeping the register of all the Dino's I am waiting for more information from him on how we can get him information, but that would be a great way to thank him for these manuals and picture, by making sure he has the information on your car.