Some Dino Motor Specs
Some manuals are listed here in PDF form.
Type
V-6
DOHC 12 valves total 2 valves per cylinder
Bore × stroke
86.00mm × 57.00mm
3.39 in × 2.24 in
Bore/Stroke ratio
1.51
Displacement
1987 cc
121.254 cu in
Unitary capacity
331.17 cc/cylinder
Compression ratio
9.00:1
Fuel system
3 Weber carbs
Aspiration
Normal
Catalytic Converter
N
Max. output (Net)
162.2 PS (160.0 bhp) (119.3 kW) @7200 rpm
Max. torque (Net)
172.0 Nm (127 lbft) (17.5 kgm) @6000 rpm
Maximum rpm
Coolant
Water
Specific output
80.5 bhp/litre
1.32 bhp/cu in
Specific torque
86.56 Nm/litre
206 Torque Specs

| | |
| --- | --- |
| Cylinder Head Nuts | 54 ft/lbs. |
| Flywheel Bolts | 50.4 ft/lbs. |
| Camshaft Retainers | 7.9 ft/lbs. |
| Camshaft Sprocket | 79.2 ft/lbs. |
| Intermediate timing chain gear nut | 57.6 ft/lbs. |
| Alternator and Water pump pulley | 108 ft/lbs. |
| Water pump mounting bolts and nuts | 18.7 ft/lbs. |
| Oilpump mounting nuts | 18.7 ft/lbs. |
| Intake manifold nuts | 14.4 ft/lbs. |
| Oil sump nuts | 18.7 ft/lbs. |
| Starter mounting bolts | 18.7 ft/lbs. |
| Transmission to motor | 72 ft/lbs. |
The torque sequence for the head is :
Torque to somewhere around the middle of the spec first, then to the final spec.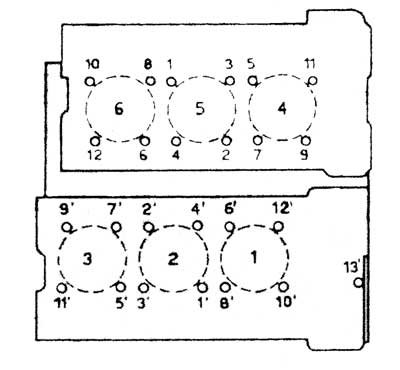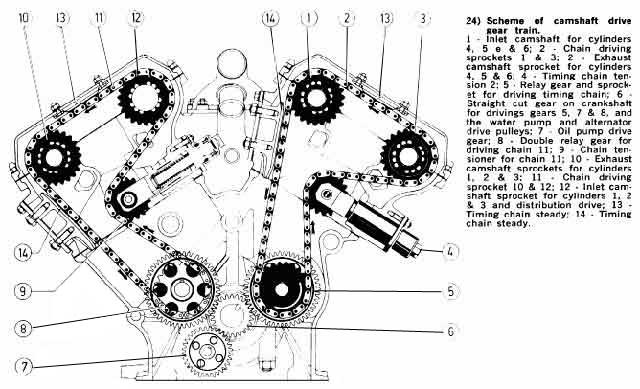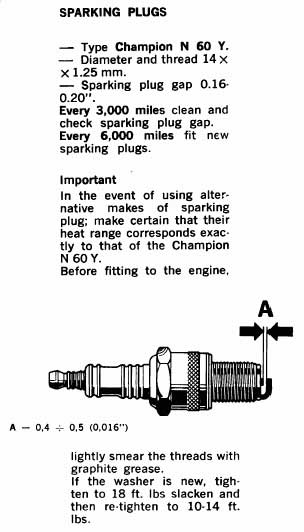 ---
The FIAT Dino motor had its genesis in the 1967 1.6-litre Formula 2 racing regulations. Ferrari's Dino V-six engine dating from the mid-1950s was ideal for the job, but the rules stipulated a 500-off, production-based block, homologation rules. As Ferrari at the time was building only 700 cars a year, this would mean virtually doubling production in just one year, and the company simply had to look to outside help. Enter the Fiat Dino, powered by a production version of Ferrari's quad-cam V-six, as an all-alloy two-liter. This allowed Ferrari to qualify its engine for F2 racing. The original quad-cam, all-alloy, 65-degree V6 found in the 2.0-litre models can trace its history back to the 1950s. The superb V6, four-cam, two-liter engine that powers the FIAT Dino lineage can be traced back to the Dino 166P sports-racing unit. While credit for the design of the V6 motor is often given to Enzo Ferrari's son, Dino, this is probably stretching the truth a bit. The younger Ferrari was indeed an engineer and possibly proposed the idea of making the V6, but it was more likely the legendary engine designer Vittorio Jano who was responsible for the actual design, but it was turned into a viable production road-car engine by Aurelio Lampredi, a one-time Ferrari employee.
The Fiat Dino 2.0 used a five-speed Fiat transmission to send power back to a live axle with a Watts-link-like leaf spring suspension. A coil spring and wishbone suspension was used up front. The result was a 130-mph car that would do 0-60 mph in around 8.8 seconds, very reasonable performance for the era.
The Fiat Dino was built as an elegant, curvaceous spider by Pininfarina. The spider is one of the prettiest designs to emerge from Pininfarina's studio in the 1960s ( I might be biased here but not the only biased person around ).